Sarasota Powerboat Grand Prix
Held for more than three decades in the waters off of Sarasota, the annual boat races on the Gulf of Mexico (formerly known as the
Suncoast Offshore
) returns to Sarasota in July as part of a series of boat racing events. Sarasota's events are scheduled for June 23rd - July 4th to benefit the Suncoast Charities for Children. Events to take place in Sarasota include parties, a fun run, concerts, powerboat displays and more.
Even though the Powerboat Grand Prix race is only two days, there is more than a week of events leading up to the races, including the 4th of July fireworks in downtown Sarasota.
If you're coming to Lido Beach for the boat races, be sure to get there early. The parking lots at the beach fill up before 8am on Boat Race Day. There is plenty of parking at St. Armands Circle and the side streets near the beach and it's only a short walk to Lido Beach for the Powerboat Grand Prix Race from there. Look for parking restrictions and fees on St. Armands Circle.
Per City of Sarasota ordinance, Lido Beach is closed from 11:00 p.m. until Sunrise. The Sarasota Police Department will not allow access to Lido Beach before sunrise and no personal property may be left out on the beach overnight.
Take the Bay Runner Trolley from downtown Sarasota.
2023 Sarasota Powerboat Grand Prix Events
Friday June 23:
Golf Classic
7th Annual Bob Rizi Memorial Golf Classic (Sold Out)
Meadows Country Club
Registration & Check In and Breakfast 7:30 a.m. / Shotgun Start 9:00 a.m.

Hole/Tee Sponsorship Only $150
Scramble Format - Includes Lunch and Awards Presentation
Friday June 30:
"Waves & Wheels" Kickoff Party
Joyland
5 p.m. until 9 p.m.
$100 pp - Live Music - Casual Attire
Buy Tickets
Food - Open Bar - Raffle Prizes - Casino Style Gaming Tables
Event Flyer
Events Cont.
Wednesday June 28:
"The Friendliest Catch" Fishing Tournament
(Invitation Only Private Event)
Saturday July 1:
Race 1- Bracket classes: 700, 600, 500 and 3X at 1pm Pole Racing- Class 1 at 2pm Pole Racing- Supercat at 3pm
10 a.m. - 4 p.m.
Race Viewing Lido Beach
VIP Race Viewing at Lido Beach*
10 a.m. - 5 p.m.
*Ticketed Event
Sunday July 2:
Offshore Race 2- MOD V, STOCK V, BRACKET CLASSES- 300 200, 3C at 10am Offshore Race 3- Factory 450R at 11:30am Offshore Race 4- Class 1 at 1pm Offshore Race 5- SUPERCAT at 2:30pm Offshore Race 6- SUPERSTOCK at 4pm AWARDS at 7pm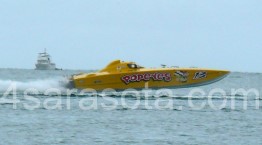 Gulf of Mexico Viewing from Lido Beach.